An employee survey to assess and improve team well-being and engagement
A consultation on key factors for team engagement
Information & Communication
Management & Relations with N+1
Positive Impact Of Company
Learning and development opportunities
A comprehensive results report to understand and improve team engagement levels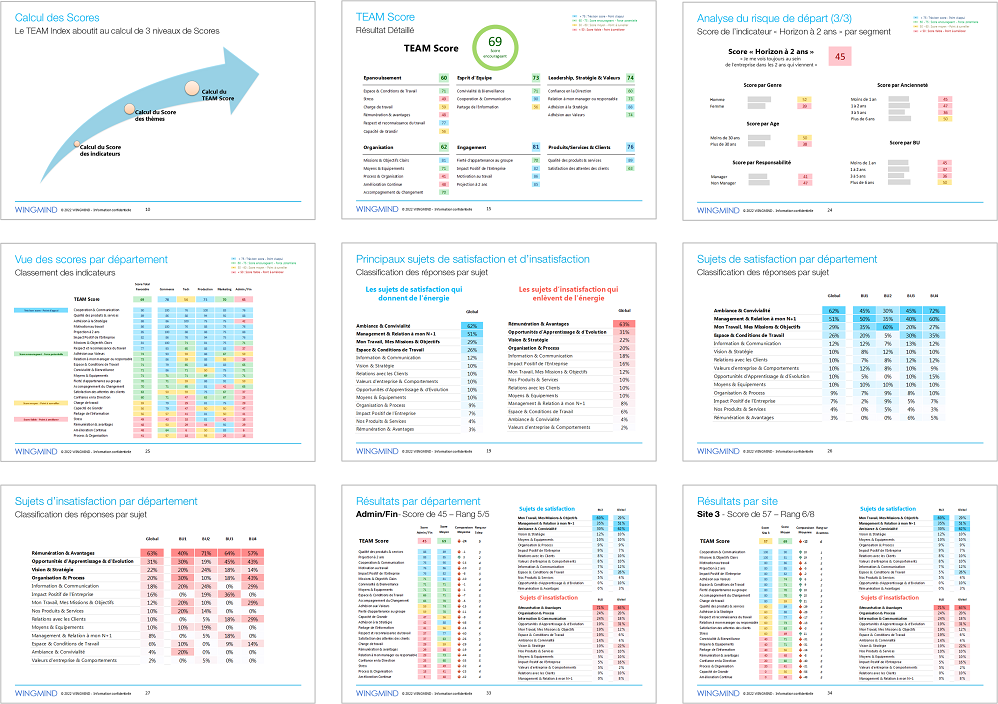 Assessing employee energy levels
The main reasons for employee satisfaction and dissatisfaction revealed and analyzed
Identifying participants' professional motivators
Measurement of 25 indicators to reveal strengths and areas for improvement
Results presented by department, site or function, as well as by gender, age bracket and seniority
Measuring your company's recommendation index
Employee departure risk analysis
A 5-step process lasting between 3 and 5 weeks
Framing the project with referents
Clarifying issues and objectives
Definition of measured indicators and open questions
Launch communication to teams
to inform them about TEAM Index
After being informed of the process, teams are invited by email to complete an online questionnaire on the WINGMIND platform. Responses are used to create a results report.
2-3 hour session with Management Team
to review and discuss results, possible actions to be taken and communication to teams.
Communication of results to teams
by email and/or presentation
Year-round support
with 1 or more consultations and regular work and follow-up sessions with management
An online survey every quarter, semester or year
with a questionnaire tailored to the company's human and strategic challenges
Closed questions for measuring and monitoring indicators and voting
Open-ended questions to gather ideas and suggestions
Expert support
in collective intelligence and human change management
A results report with results presented by department, site or function
for targeted, actionable information
A confidential setting for participants
Responses to questionnaires do not pass through the customer company, which has no access to individual responses. The data returned to the company is collective and includes the results of at least 5 people.
A la carte services
consulting or coaching, depending on your needs, for your transformation and development projects
"None of us knows what we all know together."
Euripides
What our customers say about TEAM Index
"The TEAM index is a surprising and highly instructive tool. It is well suited to the problems of an international group like ours, because in just 3 weeks it enabled us to reveal the specific problems of our teams in the different subsidiaries of the group, and then to address them more effectively. It's also a great feedback tool for managers, as we can measure the positive impact of our actions on our teams, but also become aware of the areas where we can make progress.
Olivier Binet
Head of International Markets at InPost
"By giving a voice to all employees, the TEAM index provides a rich panorama of collective team performance and well-being at work. We were able to identify important themes for celebration, as well as areas for attention, which gave rise to rapid action to correct the situation. The TEAM Index has proved to be a very good tool for gaining a fine-tuned understanding of the company's collective dynamics – much more so than the other regular, standard surveys we were using."
Martin Coriat
CEO at LeLynx.fr
"The TEAM index was first and foremost an opportunity for all our employees to express what they don't always dare say. This consultation provided us with valuable new information to help us better understand and support them. It's a highly operational tool that manages to transform everyone's feelings and opinions into a clear collective intelligence report that facilitates awareness and decision-making. It enabled us to quickly identify the levers we needed to act on to move our organization forward.
Caroline Réminy
Director at I-TECH / VINCI Construction
"TEAM Index has been very useful to us in the context of the organizational transformation we are undergoing. We're growing fast, with a steady increase in our workforce and the recent opening of several international offices. So we wanted to take the temperature and get the consultants' opinions. A well-structured external diagnosis, the TEAM Index enabled us to confirm certain HR issues we had already identified, and helped us to take action by putting in place a plan for each office."
Samson Loufrani
HR Director at Ekimetrics
Find out more about our offers and prices
Contact us to find out more
For the past 10 years, David has been working with executives, entrepreneurs and managers to help them manage and drive change, and develop their businesses and teams. He specializes in supporting leaders and management teams during times of transition.
Advisor & Executive Coach
HEC Grande Ecole graduate
Trained in Organization and Relationship Systems Coaching and certified in HOGAN Personality Assessments
Since 2012: Founder of WINGMIND, a human capital consulting firm specializing in HR audits & assessments and executive consulting & coaching
2010-2015: Digital entrepreneur. Founder of Closing Circle, a digital media company dedicated to private equity and mergers & acquisitions, which he sold to the Leaders League media group in July 2015.
2005-2010: Private equity investor. European business development manager for a US private equity firm specializing in the acquisition of technology and telecom companies
Since 2013: Professor of management, entrepreneurship and finance at business school