A human assessment of the company to assess and improve team engagement & performance
A consultation on the key factors of team engagement and performance
Information & Communication
Management & Relationship with N+1
Positive Impact of Company
Atmosphere & Conviviality
Learning & Development Opportunities
A comprehensive results report to understand and improve the level of team engagement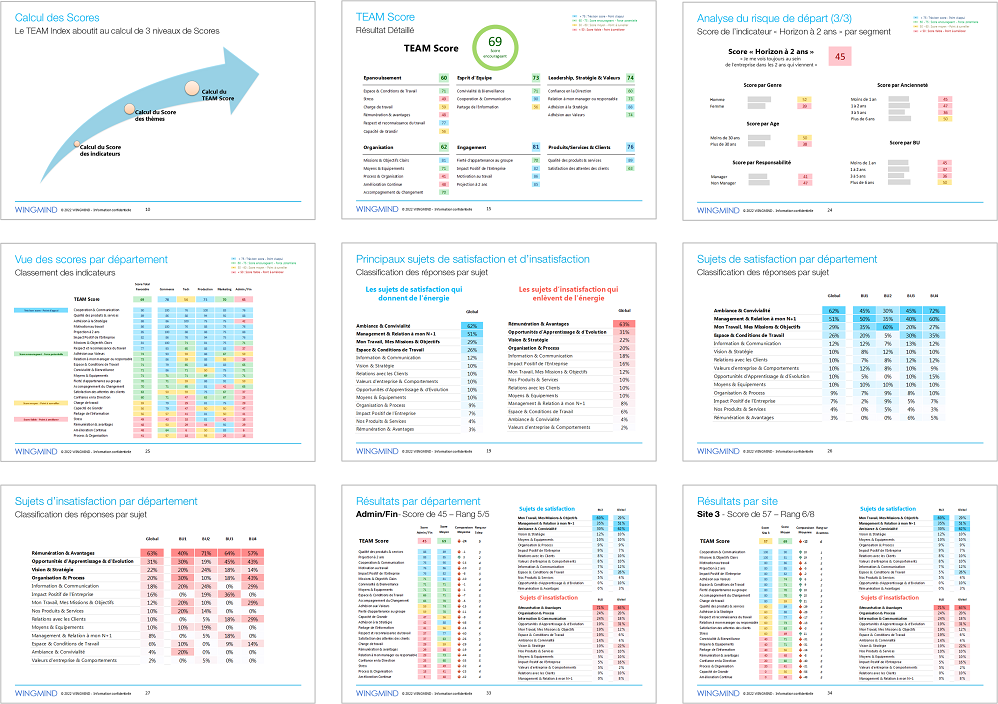 Assessing the energy level of employees
The main reasons for employee satisfaction and dissatisfaction revealed and analyzed
Identification of participants' professional motivation factors
The measurement of 25 indicators to reveal strengths and areas for improvement
Results presented by department, site or function but also gender, age group and seniority
Measuring your company's recommendation index
Analysis of the risk of employee departure
A 5-step process that lasts between 2 and 4 weeks
Preparation of the project with the referents
Clarification of issues and objectives
Definition of measured indicators and open questions
Launch communication to the teams
to inform them of the implementation of TEAM Index
After being informed of the process, the teams are invited by email to complete an online questionnaire on the WINGMIND platform. The responses are used to create a results report.
2 to 3 hour session with EXCOM
to share and discuss the results, potential actions to be taken and communication to the teams.
Communication of results to the teams
by email and / or présentation
Year-round support
with 1 or more consultations and regular work and follow-up sessions with management
A questionnaire adapted to the challenges of the company
Closed questions to measure and track indicators and vote
Open-ended questions to go deeper and collect ideas and suggestions
Support from an expert
in leadership and employee engagement
A results report with results presented by department, site or function
for targeted and actionable information
A confidential framework for participants
The client company has no access to questionnaire individual responses. The data returned to the company are collective and always combine the results of at least 5 people.
« None of us knows what we all know, together »
Euripide
What our customers think about TEAM Index
«  Le TEAM index est un outil surprenant et très instructif. Il répond bien aux problématiques d'un groupe international comme le nôtre car il nous a permis en 3 semaines de révéler les problématiques spécifiques de nos équipes dans les différentes filiales du groupe pour ensuite mieux les adresser. C'est aussi un formidable outil de feedback pour les managers car on mesure à la fois l'impact positif de nos actions sur les équipes mais on prend également conscience des sujets sur lesquels on peut progresser.  »
Olivier Binet
Head of International Markets at InPost
«  Le TEAM index en donnant la parole à l'ensemble des salariés permet de dresser un panorama riche de la performance collective des équipes et du bien-être au travail. Nous avons ainsi identifié des thèmes importants de célébration mais également des zones d'attention qui ont donné lieu à des actions rapides pour corriger le tir. Le TEAM Index s'est avéré un très bon outil pour comprendre finement la dynamique collective de l'entreprise – bien plus que les autres sondages réguliers et standards que nous utilisions. »
Martin Coriat
CEO at LeLynx.fr
«  Le TEAM index a d'abord été l'occasion pour tous nos employés d'exprimer ce qu'ils n'osent pas toujours dire. Cette consultation nous a apporté des informations nouvelles, très précieuses pour nous aider à mieux les comprendre et à mieux les accompagner. C'est un outil très opérationnel qui parvient à transformer les ressentis et les avis de tous en un rapport d'intelligence collective clair qui facilite la prise de conscience et la prise de décision. Il nous a permis de déceler rapidement sur quels leviers agir pour faire progresser notre structure.  »
Caroline Réminy
Directrice at I-TECH / VINCI Construction
«  Le TEAM Index nous a été très utile dans le contexte de transformation organisationnelle que nous connaissons. Nous sommes en forte croissance avec une augmentation continue de nos effectifs et l'ouverture récente de plusieurs bureaux à l'international. Nous voulions donc prendre la température et récolter l'avis des consultants. Diagnostic externe très bien structuré, le TEAM Index nous a notamment permis de confirmer certains sujets RH déjà identifiés et nous a aidé à passer à l'action en mettant en place un plan pour chaque bureau. »
Samson Loufrani
DRH at Ekimetrics
To find out more about our offers and prices
Contact us for more information
David accompagne depuis 10 ans des dirigeants, des entrepreneurs et des managers pour les aider à gérer et conduire le changement et à développer leur entreprise et leurs équipes. Il est spécialisé dans l'accompagnement des transitions et des équipes de direction.
Coach & Formateur
Diplômé HEC Grande Ecole
Formé au coaching systémique (Organisation and Relationship Systems Coaching)
Depuis 2012 : Fondateur de WINGMIND, un cabinet de conseil en stratégie et un organisme de formation et de coaching spécialisé dans l'accompagnement des transitions
2010-2015 : Entrepreneur dans le digital. Créateur de Closing Circle, un media digital dédié au capital investissement et aux fusions acquisitions, qu'il revend au groupe de média Leaders League en juillet 2015
2005-2010 : Capital Investisseur. Responsable européen du business développement pour une société de capital investissement américaine spécialisée dans l'acquisition de sociétés du secteur des technologies et telecom
Depuis 2013 : Professeur de management, entrepreneuriat et finance en école de commerce